Print Merchant Book
Zipps Car Wash
Note: You must show your SBEA membership card to receive this discount.
Zipps Car Wash – 3828 W Maple St, 1506 S. Maize Road, 1329 N Maize Road, 7931 E 37th N, 700 N Webb Road, 2825 N. Rock Road Derby, 565 S. Andover Road Andover -is offering SBEA members discounts on all of their unlimited wash packages allowing SBEA members to wash their vehicles for as low as $9.95 per month! Below are listed some of the perks that comes with the unlimited wash club.
-Truly Unlimited (no cap), wash as much as you want at any Zips location across the nation (140 sites).
-RFID tag allows for quick access to all locations across the nation (15 states).
-No contract, customers may cancel at any time for any reason.
-Will honor the discount forever, no expiration dates etc.  Sign up anytime!
See Store for more details.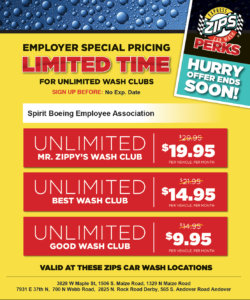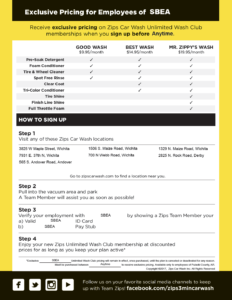 Locations:
3828 W Maple St , Wichita
1506 S. Maize Road , Wichita
7931 E 37th N, 700 N Webb Road , Wichita
2825 N. Rock Road , Derby
565 S. Andover Road , Andover