SBEA Easter
Celebration
Join Us For A Morning Of Fun
April 3, 11:00 a.m. – 2:00 p.m.
SBEA Recreation Area, 4226 S. Gold
Easter is just around the corner which means it's time for the SBEA Annual Easter Celebration. Join us at SBEA Recreation Area, April 3, 11:00 a.m. – 2:00 p.m. This year will be different than the past years due to Covid-19. We have structured the event in order to maintain the guidelines and still make it safe for the kids. We will only allow so many through the lines at a time to keep the required social distancing so we ask that you please be patient with us so we can bring this great event back this year. All events will be placed so you can go from beginning to end. Masks still required. All current covid-19 guidelines will be in place to protect everyone!
Pre decorated cookies          Bag of candy and goodies
Troubles the Clown               Easter backdrop for family pictures
Pucker Powder                     Craft
Cake walk                             Plunko game
Fish pond                              Lollipop tree
Duck pond                            Animal rescue
Cotton candy                        Spin art
Easter egg punch (chance to win stuffed bunnies)
We can't wait to see you all. Don't forget your baskets!!
 Masks still required. All current covid-19 guidelines will be in place to protect everyone!
We are looking for volunteers to help make this a fun and safe event for the kids. Please contact Stephanie at 522-2996.
Payroll Deductions
We hear you and are pleased to say we have brought back payroll deductions. This will be on a trial basis and see how things work out. Members will be allowed to do 2 payroll deductions a month for a total of $200.00. $100.00 will be deducted out of the 1st check and remaining balance from the 2nd check. If everything goes well, we will re-evaluate it again around July and go from there.
      Lunker Catfish Tournament
May 22- 23
Only those entered in tournament will be allowed to fish.  This is a fund raiser for SBEA.
Your chance to catch the "BIG" one and take 1st place has just gotten better. Grab your fishing poles and don't worry about bait, our lake store can accommodate all your needs for this tournament.  Once the fish for this tournament have been stocked in the lake there will be no fishing until the tournament starts at 8 a.m. on May 22. Only those that have paid to enter the tournament will be allowed to fish until the tournament is over. This is a 24 hour tournament; registration starts at 7 a.m. on May 22 and the tournament starts at 8 a.m. May 23. Weigh in time is at 8 a.m. sharp; however you may weigh in anytime during the tournament if you do not want to stay the entire time. You may pre-register at the lake store and pay your $25 entry fee or pay any time to enter the fishing tournament The lake will be stocked with "BIG" channel cat for this tournament. There will be 3 cash prizes for the three largest creel of 4 catfish; 1st place, ($250), 2nd place ($150) and 3rd place ($100) and then $100 if you want to enter the contest for largest catfish caught for an additional $5.00 entry fee. All rules of the lake must be followed with no gold fish allowed for bait and 2 poles per fisherman. No buddy system will be allowed, you must catch your own fish and they must be kept on your own stringer or in your own basket and kept in the water. Vehicles will be subject to inspection. Contestants will be supplied with an armband and rods used in the tournament will be tagged. Tournament ends promptly at 8 a.m. on May 23. If you do not present your fish by that time you will be disqualified, so be sure to be on time. For your convenience the bait shop will be open until 10:00 p.m. on May 22.  The lake will be closed for fishing to everyone who is not a contestant in the tournament. Camping will be allowed for those in the tournament on May 22.
   Kid's Fishing Day
Fun For Kids
And A Chance To Win Prizes
June 19, 9:00 a.m. – 12:00 p.m.
 SBEA invites all kids to come out and enjoy the lake and the thrill of catching a fish. We will stock the kids pond with fish especially for this day. Prizes will be given away that day for the kids. Free hotdog, chips and pop will be provided for participating kids. Concessions will also be available. This is a chance to see what a great facility you have at SBEA. The SBEA lake is located at 4226 S. Gold. Members can save 10% off all kids fishing items after the fishing event. Meet in front of the lake store at 9:00 a.m. or come out anytime from 9:00 a.m. – 12:00 p.m.
Pavilion Rentals
Planning or hosting an event or party soon? Check into renting our enclosed (heated and air conditioned) or screened in pavilions. Call Missy at (316) 522-2996 for availability. Please be aware that we comply with the current mass gathering mandates and our facilities are Covid sanitized for your protection. We are requiring all members to provide hand sanitizer for their party/gathering who attend. This will be checked for during your check in with the ranger.
We also have an outdoor picnic area available.
Do you have an idea that would make a great event for members and families? Please let us know by contacting Stephanie at steph@beatoday.com . 
Merchant Discounts
One of the most popular "perks" SBEA members have is access to discounts across the city.  SBEA provides a listing of merchants willing to provide wonderful discounts as a service to our members that can be accessed on line by visiting this page at https://beatoday.com/merchant-discounts/. Simply present your current SBEA membership card at the listed businesses. We continually look for additional discounts to offer our members.
  2020 Membership Cards
With the announcement from Spirit a couple of weeks ago, we decided to hold off on sending out the 2020 membership cards and will send them through Spirit mail room sometime in February. Once we get a list from Spirit of our members that got laid off and pull those membership cards, then we will send out the rest. You may continue to use your 2019 membership card until further notice. If you are one of those that are getting laid off you may keep your SBEA membership for up to 4 years from your layoff date. Questions, please call Missy at 522-2996.
   Spirit/Boeing Today Newsletter
You Have 3 Options To View The Newsletter
Did you know that you can view the Spirit/Boeing Today newsletter on line? Better yet, how about from the comforts of your own home. The answer is yes, our newsletter is available to view at www.beatoday.com or you can have it emailed to you simply by filling out the form on the back of the newsletter with your email address and send it to Stephanie at K30-35 or email it to her at steph@beatoday.com. We even have sign up forms in all SBEA stores to fill out if you would like to be added to the e-news letter list. For those that want a copy mailed to your home we will be glad to print it off and mail it to your home, but the cost is $10.00 a year.
SBEA Store Locations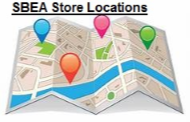 We are open. Come on in and see us anytime during our open hours. We love to have visitors.
Main Store: Open Tuesday – Thursday, 9:00 p.m. – 2:30 p.m., until further notice.
IPB3 Store : Open Thursday's & Fridays, 10:30 a.m. – 1:30 p.m.
Credit Union Store: Open Monday –  Friday, 2:00 p.m. – 3:30 p.m.
Lake Store: The lake store is Wednesday – Sunday, 7:00 a.m. –6:00 p.m. for your shopping convenience. Lake and lake store are closed Monday's & Tuesday's.
News For Members
Getting Laid Off?
A SBEA member who has been laid off work may continue their SBEA membership for 4 years following their layoff. You will not be allowed to do payroll deductions, but you'll have all other benefits of membership including the recreational use of the lake. The cost for the membership is $182.00 a year and can be paid at the SBEA Administrative Office at 4226 S. Gold. Questions, please call Missy at 522-2996.
Payroll Deductions
The payroll deduction policy is: 1 payroll deduction per member, per month, limit of up to $150.00 and all money will be taken out of 1 check. Also, you will not be able to purchase gift cards on payroll deductions. You can purchase them with cash, credit card or debit cards only. It is the responsibility of SBEA to protect your association and with everything happening at Spirit right now feel that we must take this precautionary action. This could change at any moment depending on circumstances at Spirit Aero Systems. We are sorry for any inconvenience this may cause our members and hope this does not last too long.
  Retiree & Other Membership Options
Extended Membership: Current members can purchase an extended membership for any family member in their family.
Open Membership: SBEA is now extending the opportunity to join the SBEA to all armed services and emergency relief personnel (Military, Firemen, Policemen, and EMS) Current active duty identification or retirement identification cards must be shown.
Going To Retire? When you retire from Boeing or Spirit, and do not go to work for the other company, you are eligible to keep your membership current. Bring something to show your retirement status down to the lake office to join.
Affiliate Membership: If you are laid off, you may purchase an affiliate membership (up to 4 years). If you are laid off and then retire you are eligible for a retiree membership. Bring something to show your retirement status down to the lake office to join.